College of Charleston Cistern
I just love visiting Charleston. It's such a charming city, and if it's even possible, the food is getting better. I'm fairly familiar with the city having graduated from College of Charleston. But, it's been years since I lived there. I did my normal foodie research to see what new gems had opened up.
We literally stumbled upon Christophe Artisan Chocolatier-Patisserie. It's on Society Street, just off King. We decided to do a picnic dinner in our hotel room and popped in to Christophe to see if they had bread and maybe, just maybe, a little dessert. Of course, we left the store loaded with brioche, sablé and linzer cookies, a dacquoise, and a caraque (shortbread base with chocolate covered in a pistachio fondant). And, just look at the jeweled chocolates pictured below! Everything in the shop was delicious perfection.
Hand painted chocolate jewels at Christophe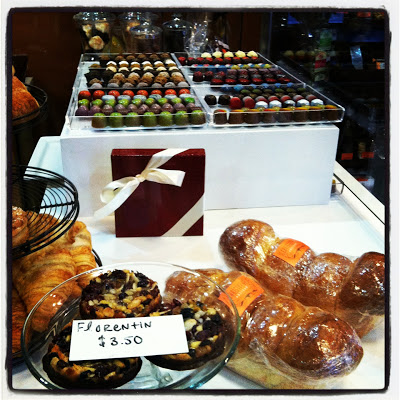 Christophe chocolates, cookies, brioche and croissants.
Next we ventured to Caviar and Bananas, at their George Street location. This one I was alerted to by Chowhound and again by Serious Eats who featured the duck confit panini. We went to buy that and get the rest of our picnic. We were pleased and surprised to find beautiful cheeses, cured meats, prepared salads, mustard, and wine to finish off our picnic in style. The duck confit panini did not disappoint. The combination of flavors was sublime. I've sent several other people to this shop for this sandwich.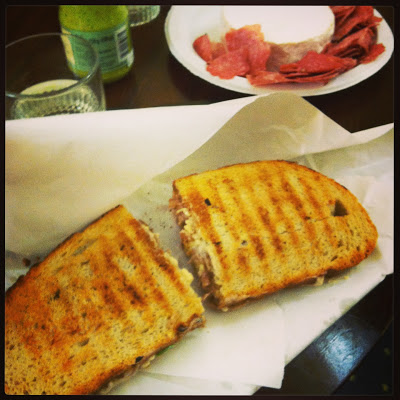 Picnic dinner: duck confit panini, Camembert with salami, and tarragon mustard.
Duck Confit Sandwich wrapper. Sandwich features duck confit, pickled red onion, fig jam, gruyere, and black pepper mayo.
An inside view of the sandwich.
View from the beach at Fort Moultrie
We also hit Poe's Tavern, out on Sullivan's Island, for delicious fish tacos, shrimp tacos and a pimento cheese burger! I'd heard lots about this place but had never made it there to eat. It was warm enough to sit outside and enjoy the good food and quick service.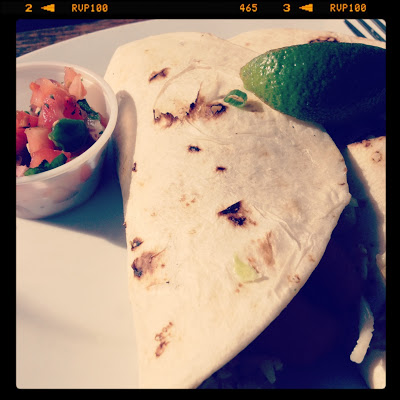 Poe's Tavern Buffalo Shrimp Tacos