Plant, on Merrimon Ave, in Asheville, is a fairly new restaurant that exclusively features vegan fare. I eat meat, but I also enjoy plant-based foods, so I went with a friend to try it out. It's definitely worth a stop-by. The space is nice, nothing too fancy, but not dowdy either. The menu strikes a nice balance of foods anyone would like to try, plus with no meat or dairy, you feel like you can splurge on the yummy parsnip fries! I tried the Thai Tempeh Roll (field mix, carrot, red onion, avocado, peanut-lime sauce on grilled whole wheat lavash for $10). My friend had the 'Villy Cheesesteak (seitan, onion, pepper, mushroom, v1 steak sauce & mayo, mozzarella, romaine on a whole wheat hoagie for $11). Both were delicious and filling with lots of flavor. I would recommend either of them and I'll definitely be back to try out other menu items.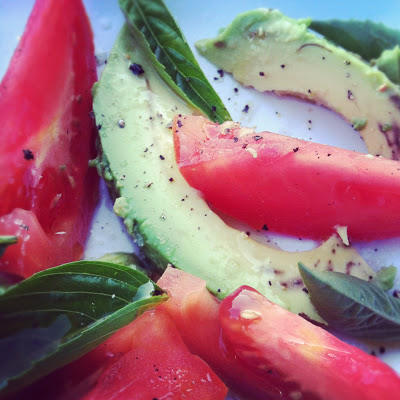 Fall is a great time to do a composed salad. There are still a few ripe local tomatoes to be sourced, avocados are on sale, and I don't know about you, but I still have basil in my herb garden.
Composed Salad
serves 4
Ingredients
2 ripe avocado
2 large ripe tomatoes
8 basil leaves
extra virgin olive oil
1/2 lemon
sea salt
pepper
Directions
Cut the avocado and tomatoes into similarly shaped pieces. Arrange on a pretty plate. Add the basil leaves (torn if you'd prefer). Drizzle with olive oil, the juice of half a lemon, and add a sprinkling of sea salt and a crack of black pepper. Serve immediately.