We buy and eat a ton of bananas at our house. Occasionally we get some that start to go super ripe before we get around to eating them. That's okay because it gives me the perfect excuse to make banana bread or better yet banana muffins.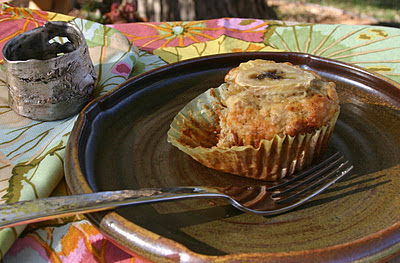 The 6 bananas that this recipe calls for makes for a very moist and delicious muffin without using much extra sugar.
Super Banana Muffins
Yield: 12 standard-sized muffins (or 24 mini muffins, adjust baking time accordingly)
Adapted from Cooks Illustrated, August 2010 issue
Ingredients
1 3/4 cups all-purpose flour
1 teaspoon baking soda
1/2 teaspoon table salt
6 large (about 2 1/4 pounds) very ripe bananas, peeled
1/2 cup canola oil
2 large eggs, slightly beaten
3/4 cup packed light brown sugar
1 teaspoon pure vanilla extract
2 teaspoons granulated sugar
Directions
Preheat oven to 350 F. Adjust oven rack to middle position. Place liners in muffin pan.
Whisk flour, baking soda and salt together in a large bowl.
Place five (5) bananas in a microwave-safe bowl; cover with plastic wrap and cut several steam vents in the plastic wrap with a paring knife. Microwave on high until the bananas are soft and have released liquid, approximately 5 minutes. Transfer the bananas to a fine-mesh strainer placed over a medium bowl and allow to drain, stirring occasionally, for 15 minutes. You should have 1/2 to 3/4 cup liquid after straining.
Transfer liquid to medium saucepan over medium heat until it's reduced to approximately 1/4 cup. This should take about 10 minutes. Remove pan from heat and stir in the drained bananas; mash with a potato masher until fairly smooth. Whisk in the oil, eggs, brown sugar, and vanilla.
Pour the banana mixture into the flour mixture and stir until just combined with some streaks of flour remaining. Using an ice cream scoop, or spoon, portion the batter into the liner-filled muffin pan. Fill approximately 3/4 full.
Slice the remaining banana diagonally into 1/4-inch-thick slices. Place one banana slice atop each muffin. Sprinkle a little granulated sugar evenly over each muffin.
Bake 25-30 minutes or until a toothpick inserted in the center comes out clean. Cool muffins in pan on wire rack for 15 minutes. Serve warm or at room temperature.