Fresh Market and EarthFare are now carrying an organic lactose-free sour cream. It seemed like a wonderful excuse to make super moist muffins over the weekend that my husband, son and I could enjoy.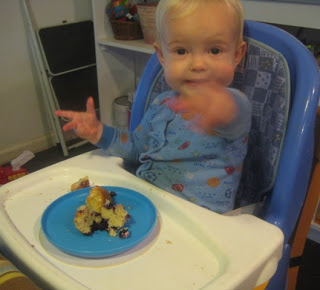 Adapted from Cook's Illustrated, Best Recipes
Blueberry Muffins with Lemon Glaze
Ingredients
2 cups unbleached all-purpose flour ( 10 ounces)
1 tablespoon baking powder
1/2 teaspoon table salt
1 large eggs
1 cup granulated sugar ( 7 ounces), plus 1/2 cup
4 tablespoons vegetable oil
1 1/4 cups sour cream ( 10 ounces)
1 1/2 cups frozen blueberries, preferably wild
1 lemon, zested and juiced
Directions
Adjust oven rack to middle position and heat oven to 350 degrees. Spray standard muffin tin with nonstick vegetable cooking spray. Whisk flour, baking powder, and salt in medium bowl until combined. Whisk egg in second medium bowl until well-combined and light-colored, about 20 seconds. Add sugar and whisk vigorously until thick and homogenous, about 30 seconds; add vegetable oil in 2 or 3 steps, whisking to combine after each addition. Add sour cream in 2 steps, whisking just to combine. Add frozen berries to dry ingredients and gently toss to combine. Add sour cream mixture and fold with rubber spatula until batter comes together and berries are evenly distributed, 25 to 30 seconds (small spots of flour may remain and batter will be thick). Do not overmix!
Use ice cream scoop or large spoon to drop batter into greased muffin tin. Bake until light golden brown and toothpick or skewer inserted into center of muffin comes out clean, 25 to 30 minutes, rotating pan from front to back halfway through baking time. While muffins bake, combine the lemon juice with 1/4 cup of sugar in microwave safe bowl. Microwave on high for about 45 second, or until sugar is dissolved. In another bowl, combine lemon zest and 1/4 cup of sugar. Set aside.
Invert muffins onto wire rack, stand muffins upright, and cool 5 minutes. Brush tops of muffins with lemon glaze, then dip in lemon zest sugar. Serve warm, or room temperature.