Okay, so you might say that making your own hamburger buns is a little time consuming. But, I would tell you that they taste SO MUCH BETTER than the cardboard, flavorless buns you will buy at the grocery store.
Homemade Sandwich Rolls
adapted from King Arthur Flour recipe
Ingredients
1 package active dry yeast (7 grams)
1 cup lukewarm water (110-115 F.)
1/4 cup sugar + 1 tablespoon
2 tablespoons butter
1 egg
3 and 1/2 cups all-purpose flour (up to half can be white whole wheat)
1 and 1/4 teaspoons salt
For topping:
1 egg
sesame or poppy seeds
Directions
1. In a small bowl dissolve yeast in the warm water, stir in sugar and allow to sit until bubbly, 5-10 minutes.
2. Mix all of the dough ingredients together including the yeast mixture. Knead either by hand (on a floured surface, adding flour as needed), mixer, or bread machine until you get a soft, smooth dough.
3. Put the dough in an large, oiled bowl, cover and allow to rise until doubled in size, about 1 hour.
4. Gently deflate the dough. On a floured board or counter top divide dough into 8 equal pieces, shape each piece into a circle about 1" thick and flatten to about 3" across. Place the buns on a lightly greased baking sheet, cover, and let rise for about an hour or until very puffy.
5. Preheat oven to 375°F. Beat egg with 1 tablespoon water, brush over tops and sprinkle with seeds.
6. Bake for 12 to 16 minutes until lightly golden. Cool on wire racks.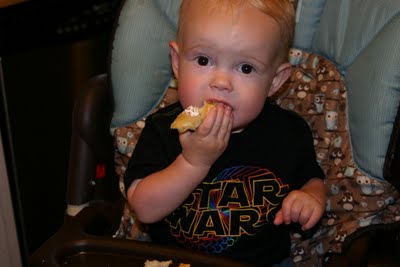 My little guy loved them!