Christmas dinner in my family means roast beef and yorkshire pudding. Here's a picture of the plate (at my mom's house). Starting at the roast beef and moving clockwise, brussel sprouts with bacon, crispy potatoes, salad of fennel, persimmons and hazelnuts with a citrus vinaigrette, scalloped potatoes, and yorkshire pudding. The salad recipe is from Fine Cooking. The brussel sprouts were a Jacques Pepin recipe from his public television show. They turned out so well that I made them again for New Year's Eve.
Persimmon & Fennel Salad with Hazelnuts
Ingredients
6 Tbs. fresh orange juice

2 Tbs. white wine vinegar

2 Tbs. minced shallot

2 tsp. finely grated orange zest

Kosher salt

1/2 cup extra-virgin olive oil

4 medium ripe Fuyu persimmons, peeled, quartered, cored, and thinly sliced

2 medium bulbs fennel, trimmed, cored, and very thinly sliced or shaved with a mandoline or vegetable peeler

1/3 cup lightly packed fresh flat-leaf parsley leaves, coarsely torn if large

Freshly ground black pepper

1/2 cup toasted, peeled hazelnuts, chopped

1/2 cup shaved Parmigiano-Reggiano
Directions
Put the orange juice, vinegar, shallot, zest, and 1/4 tsp. salt in a small bowl and let sit for 15 to 30 minutes to soften the shallot and meld the flavors. Gradually whisk in the oil.
In a large bowl, toss the persimmons, fennel, and parsley with enough of the vinaigrette to coat (you may not need all of it). Season to taste with salt and pepper. Divide among 6 salad plates and sprinkle with the hazelnuts and Parmigiana-Reggiano.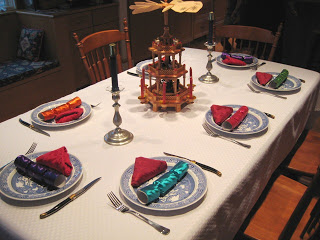 In light of our British leanings for Christmas in the food department, we love to have Christmas crackers or poppers. Inside the brightly colored tube is a toy, hat and horribly bad joke. Hope everyone had a wonderful holiday too!