An unexpected combination of flavors, this dish is perfect for your next dinner party. Cardamom and allspice are not spices I use often, but the play of them against the bright lime is really terrific. The recipe is courtesy of a beautiful vegetarian cookbook,
. A couple of notes on the recipe: 1. I used one butternut squash and one acorn squash, there was plenty of sauce and garnish for both, and 2. I subbed lactose free sour cream for the yogurt, our market only had lactose free vanilla yogurt, rather than plain.
Roasted Squash with tahini, chili and lime
serves 4-6
Ingredients
3 limes
sea salt
4 tablespoons olive oil
1 medium butternut squash (~2 lbs)
2 tablespoons cardamom pods
1 teaspoon ground allspice
1/2 cup Greek yogurt
2 1/2 tablespoons tahini
1 green chili, thinly sliced
2/3 cup picked cilantro leaves
Directions
Preheat oven to 400 F. Trim off two limes' tops and bases using a small sharp knife. Stand each lime on a chopping board and cut down the sides of the fruit, following its natural curves, to remove the skin and white pith. Quarter the limes from top to bottom, and cut each quarter into thin slices, about 1/8 inch thick (you can also cut the
). Place them in a small bowl, sprinkle with a little salt, drizzle with 1 tablespoon of olive oil, stir and set aside.
Next, cut the squash in half length-ways, scoop out the seeds and discard. Cut each half, top to bottom, into 3/8-inch-thick slices and lay them out on a large baking sheet lined with parchment paper.
Place the cardamom seeds in a mortar and work with a pestle to get the seeds out of the pods. Discard the pods and work the seeds to a rough powder. Transfer to a small bowl, add the allspice and the remaining 3 tablespoons of oil, stir well and brush this mixture over the butternut slices. Sprinkle with salt and place in the oven for 15 minutes or until tender when tested with the point of a knife. Remove from the oven and set aside to cool. Peel off the skin, or leave on if you prefer.
Meanwhile, whisk together the yogurt, tahini, lime juice from the remaining lime, 2 tablespoons of water and a pinch of salt. The sauce should be thick but runny enough to pour; add more water if necessary.
To serve, arrange the cooled butternut slices on a serving platter and drizzle with the yogurt sauce. Spoon over the lime slices and their juices and scatter the chili slices over the top. Garnish with the cilantro and serve.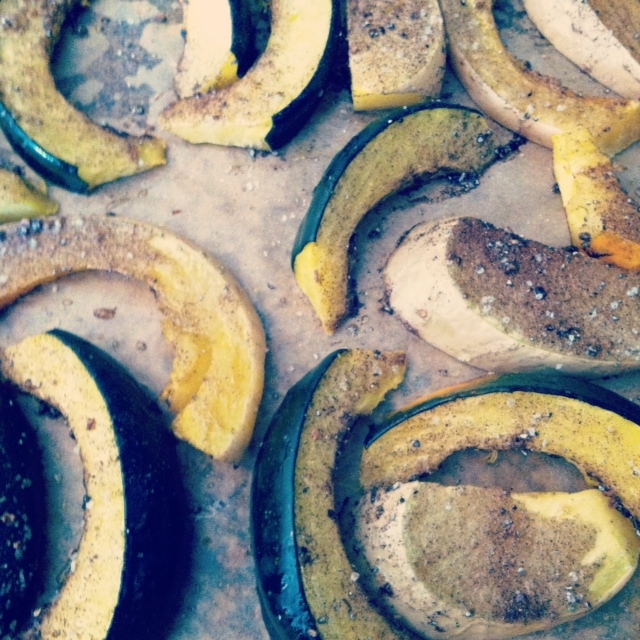 Roasted butternut and acorn squash