I
always
have canned tuna in the house. Easy enough for a sandwich on the weekend, or dress it up and pan fry it for a lovely weeknight dinner, either way you've got a healthy and high protein meal.
Tuna Cakes
Ingredients
10 oz. canned tuna
1 egg, lightly beaten
1 large shallot (or sub half an onion), finely diced
2 ribs celery, finely diced
2 tablespoons celery leaves, finely diced
2 tablespoons butter
2-3 tablespoons olive oil
1 teaspoon kosher salt
1/2 teaspoon celery seed
1/2 teaspoon pepper
Directions
Sweat the shallot, celery, and celery leaves in the butter until softened, around 8 minutes. Add to medium-sized mixing bowl. Let cool for a few minutes, then add the rest of the ingredients and stir until just combined. If you have the time, cover with cling wrap and refrigerate for 15-20 minutes.
Preheat a saute pan with olive oil. Hand form 4 cakes (or use a ring mold like I did, found at your local kitchen supply store), and cook on medium high heat for 4-5 minutes a side. To ensure they keep their form, don't touch them while they're cooking. Once they form the bottom crust, you will be able to gently flip them.
This recipe serves 2. I made a little cucumber salad to go along with it. I peeled, seeded, and made half moons out of 4 medium sized cucumbers. I then salted them with 1 teaspoon of kosher salt and let them drain in a colander for 15 minutes. I added a couple of splashes of olive oil, a few more splashes of tarragon vinegar, cherry tomatoes, pepper and fresh chopped tarragon and served.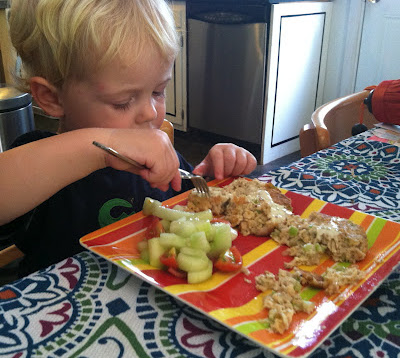 My little guy gobbled up the tuna cakes.