I bet my mom will really get a kick out of this. Here we are in 2012, and I'm making my own hand soap. She used to do this back in the day. I love
, and saw a recipe using their bar soap as a base for liquid hand soap. Invest $3.58 in a bar of soap and a couple of dollars in a bottle of pure glycerin, add water, let it set up, and voila, you've got a gallon of hand soap that smells lovely, works great and only cost you pennies.
Here's the recipe from The Farmer's Nest blog:
http://www.thefarmersnest.com/2011/11/liquid-hand-soap-diy.html
Cheese grater (from the dollar store)
two Tablespoons of Liquid Glycerin (I found it at my local pharmacy in the soap aisle)
one bar of soap (8 oz.)
one gallon of water
Step 1
Grate the soap
Step 2
Add the soap to 1 gallon of water in a pot.
Step 3
Add 2 Tablespoons of liquid glycerin and turn the heat to medium/high and stir until the soap dissolves.
Step 5
Leave it alone to cool for at least 10-12 hours. It begins to cloud up after 3-4 hours.
Step 6
After it has cooled completely around 12 hours later it will harden and look like liquid soap.
Step 7
If the soap is too hard, you can take some beaters and blend it while adding just a little bit of water until the consistency is more like liquid soap.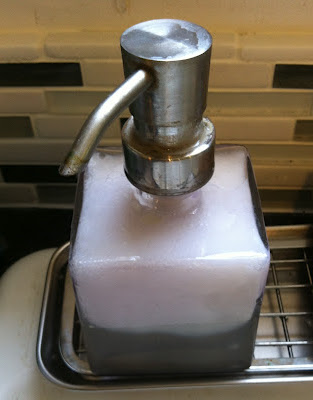 And, the finished product!