You like the name? I had been trying to come up with an outrageous name for these decadent cookies and was coming up short. So, I asked my husband and the first thing that popped out of his mouth was Heart of Darkness.
I loved it, so fitting for these rich, uber moist cookies that you shouldn't keep lying around the house too often.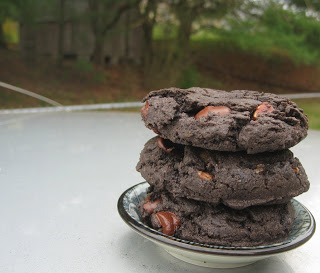 Heart of Darkness Peanut Butter Cookies
Ingredients
1 cup creamy peanut butter
¼ cup of granulated sugar
½ cup of brown sugar (packed)
1 egg, lightly beaten
2 Tablespoons of all-purpose flour
1 teaspoon of fine sea salt
1 teaspoon of baking powder
¼ cup cocoa powder
¼ cup
dark chocolate chips
¼ cup chopped toasted pecans
Directions
Preheat oven to 350 F degrees. In a small bowl mix the flour, cocoa powder, sea salt and baking powder and set aside. In a medium bowl combine the peanut butter and sugars until smooth, then add the egg until combined. Add the dry ingredients to the wet and combine thoroughly. Fold in the chocolate chips and pecans.
Roll golf ball-sized balls of the cookie dough and place them on the cookie sheet, that's been covered with parchment paper. Bake for 11-13 minutes, or until just set. Let cool on baking sheet for 5-10 minutes then transfer to cooling rack.