Meatfest 2010 was a big success. Almost 50 lbs of meat (pork, turkey and chicken) was smoked. The photo above is a sampling of meats and sides.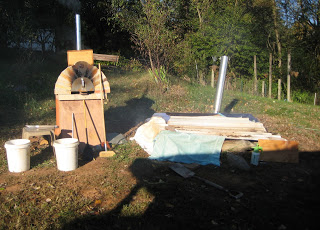 The smoking rig. On the right is a fire pit with a hearth on one side and fire on the other. In order to keep the smoke in, old metal roofing and towels were used. On the left is our new wood-fired oven with a makeshift smoker box on top. The box sits on the chimney opening of the wood-fired oven and allows smoke to travel from one side to the other smoking whatever is inside.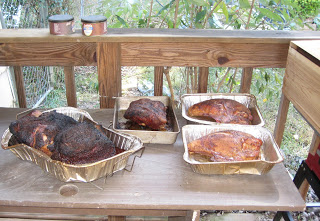 Pork butts (3) and bone in turkey breasts. The butts smoked for 13 hours, the breasts for around 8.