Yum, yum and yum. I read about this somewhat waist-friendly carnitas recipe on seriouseats.com. I made them the night before so they were ready in a flash, just broil to crisp them up.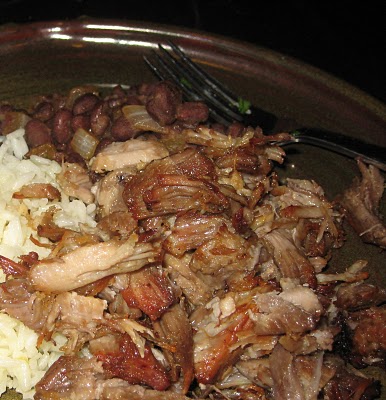 Here's the recipe, slightly modified by me:
Pork Carnitas
Ingredients
1 medium onion
3 pounds boneless pork butt (shoulder), rind removed, cut into 2-inch cubes
Kosher salt
1 orange
4 cloves garlic
2 bay leaves
1 cinnamon stick, broken into three or four pieces
1/4 cup vegetable oil
Directions
1. Adjust oven rack to middle position and preheat oven to 275 degrees. Split onion into quarters. Set aside. Season pork chunks with 1 tablespoon of kosher salt (cut in half if using table salt) and place in a 9 by 13 glass casserole dish. The pork should fill the dish with no spaces. Split orange into quarters and squeeze juice over pork. Nestle squeezed orange pieces into casserole. Add onion quarters, 4 cloves garlic, bay leaves, and cinnamon stick to casserole. Nestle everything into an even layer. Pour vegetable oil over surface. Cover dish tightly with aluminum foil and place in oven. Cook until pork is fork tender, about 3 1/2 hours.
2. Using tongs, remove orange peel, onion, garlic, cinnamon stick, and bay leaves from pork. Strain the liquid from the pork. Once de-fatted, you can use the liquid as a base for a sauce. Transfer pork back to casserole dish. Shred pork into large chunks with fingers or two forks. Refrigerate until ready to serve.
3. Broil until brown and crisp on surface, about 6 minutes. Stir to expose new bits to heat, and broil again for 6 more minutes or until crisp.
Serve them on tacos, or like I did with rice and black beans and a little mango-cilantro salsa.