I'm a big fan of the Thanksgiving holiday. This year was a bit quieter than most, which was a nice change of pace. The first pic is of the full plate (starting clockwise with the cranberry chutney, brined, roasted turkey, mashed potatoes with gravy, roll, green bean casserole, stuffing and in the center cauliflower with pears and hazelnuts).
The green bean casserole made from scratch. No cans involved!!! Those are crispy fried shallots on top in place of the canned fried onions.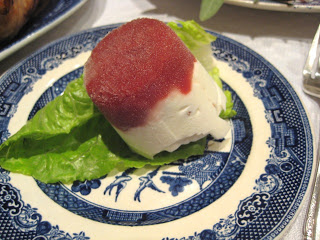 A family tradition, it's a called a cranberry tip top, and it's a frozen salad. The top is cranberry jelly mixed with lemon juice and the bottom is a mixture of whipped cream, mayonnaise, cream cheese and walnuts.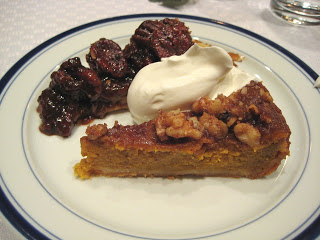 Dessert was a chocolate toffee pecan pie and a dairy free pumpkin pie with a brown sugar and walnut topping. YUM! Hope everyone had a nice holiday!