My husband's mom took us out for sushi last night. We tend to like most of the sushi places in Asheville, but Wasabi is one of the best. To the left was a special called the Sakura role. I'm told she's the anime character, Naruto's, girlfriend. Not relevant, sure, but little know facts are always fun.
We also tried the miso eggplant which was sweet and very different. Good, but unlike anything I had tasted before.
Another special was the hot seared white tuna tataki over greens. It was an awesome salad. Super spicy and fabulous. If you ever see it on their menu try it out.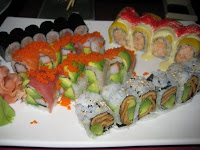 Another shot of our assorted sushi. The roll in the front is bean curd and avacado. To the left of that one is the ubiqitious rainbow roll (always good). Behind that is the yellowtail and scallion roll. And the far right roll is crab salad with mango and roe. Good, but super rich.
I've got a big fundraiser tonight, so no cooking today. There's always tomorrow, though! Ciao.