Shepherd's Pie is one of my favorite comfort dishes. And, since we got a 10 lb bag of potatoes... The next logical step was to make "clean out the fridge" shepherd's pie.
I started by crushing six garlic cloves and heated them with 3 fresh sage leaves in the toaster oven covered in olive oil. This oil was for the mashed potatoes.
I cooked the potatoes in salted water until fork tender. Reserved some of the cooking liquid, and mashed them with the garlic oil, chicken stock and their cooking liquid. Add salt and pepper to taste. Just a reminder, my husband is lactose intolerant, hence the omission of butter, heavy cream or milk.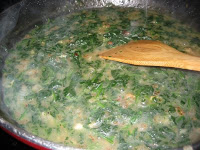 We had a couple of frozen beef blade steaks that I thawed. Then I salted and peppered them and seared in olive oil. While I let those rest on a cutting board, I added one minced onion to the same pan and let them soften a couple of minutes. I added 3 finely minced garlic cloves, then deglazed the pan with brandy.
Next, I needed to make a roux, so I added a bit more olive oil to the saute pan, and 3 tablespoons of flour. I let the flour taste cook out for 2-3 minutes, then slowly added chicken stock. That was the base for the sauce.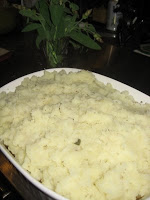 I thought we needed more veges, so I added some thawed frozen spinach, and leftover turkey chili with arugula from the night before. Checked for seasoning, and added the chopped steak that I had just cooked.
Then, I put it all together. I used a non-stick spray on my baking dish, added the meat and sauce mixture and topped with the mashed potatoes. I drizzled the top of the taters with olive oil to promote browning and baked at 375 for 20 minutes. Then I broiled it for 6 minutes.
It turned out really well, and now I only have shepherd's pie as leftovers in my fridge!