I was tired of the same old "protein w/ sides" dinner so I decided to do an appetizer spread. I whipped up some lemon-thyme hummus, added fresh veges and made baked wonton chips.
With a couple of beers it made the perfect dinner.
Here's how I did it:
Lemon and Thyme Hummus
(all measurements are approximate b/c I throw in stuff until the hummus tastes right)
In a food processor add 1 or 2 garlic cloves and process until finely minced. Next add 2 cans of drained and rinsed chickpeas, zest and juice of one lemon, 2 teaspoons of cracked black pepper, 1 teaspoon of kosher salt, 1 to 2 teaspoons of fresh thyme, 1 1/2 Tablespoons of tahini, 1 teaspoon of balsamic vinegar, a couple of shakes of hot sauce, pinch of cumin, pinch of cayenne, pinch of red pepper flake, and 1/2 cup of olive oil. Blend until smooth. Adjust for seasoning.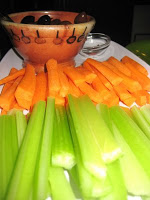 I cut up plenty of carrots and celery and opened a jar of good kalamata olives.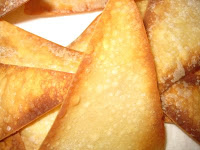 I saw this recipe for baked wonton chips on seriouseats.com yesterday and had to try it out. For the chips, cut fresh wonton wrappers diagonally, spray a cookie sheet w/ canola oil baking spray, lay down the "chips" spray the tops, lightly sprinkle w/ salt (or pepper, sesame seeds, other herbs, spices, etc.) and bake @ 350 degrees for 6-7 minutes. They turn out super crunchy and delicious!
It turned out to be a fun and CHEAP meal!