Every year we try to grow more and more of our own food.
To the left is our biggest plot of land and home to tomatoes, squash, peas, peppers, eggplant, okra and corn.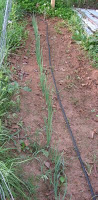 We decided to plant onions for the first year. Here they are to the left of the black soaker hose. We planted onion sets close together to get green onions initially and then let the onions that we've thinned out mature.
Besides the veges we have herbs, lettuces, garlic, beans and brussel sprouts.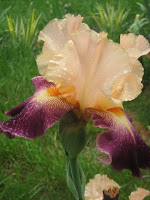 Obviously not a vegetable, but our irises this year are outrageously beautiful.