We went to the North Asheville Tailgate Market and the City Market looking for plants this weekend. Found a couple, but ended up at Lowe's for the majority. Markets were packed though!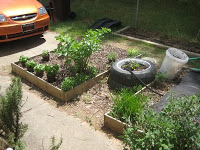 We got all of our tomatoes, peppers and herbs in the ground, but we're still looking for japanese eggplant and okra. We had already gotten our onions, peas, beans, corn, garlic, lettuces etc. in the ground a couple of weeks ago.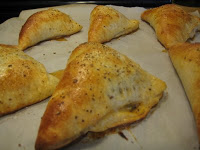 I've been working on an empanada recipe to enter into the Pillsbury bake-off. The pic to the left is my hopefully winning recipe. Can't give my secret away, but keep your fingers crossed for me. $1,000,000 would go a very, very long way....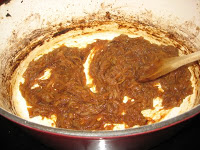 Also on the menu over the weekend was Cook's Illustrated French Onion Soup. It takes 4 hours to make, so I started at 3 pm. Here I'm doing the quadruple deglazing technique after it's been in the oven for 2 1/2 hours.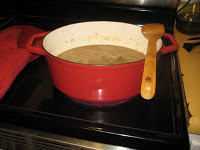 It turned out beautifully. The recipe is in their January 2008 issue, and I'd recommend it to anyone who loves and appreciates the flavor of deeply caramelized onions. Definitely worth the time and effort!