Yes, I know it's been months, but it was a delicious meal that I would like to share.
For Valentine's Day this year my husband and I did a meal at home. We started with duck confit and collard green wontons served with a sweet and hot chili sauce. I just used leftover collard greens and duck confit that we had received as a gift for Christmas.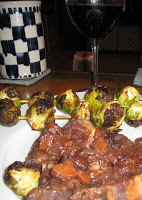 For the main course we had braised short ribs with figs and olives and grilled brussell sprouts. The short rib recipe was adapted from Epicurious.com. The ribs were delicious, but the star of the meal were the brussell sprouts. They were an Alton Brown recipe, where you marinaded them in a dry mustard bath and then grilled or broiled them. Just delicious.
For dessert I made a blueberry walnut baklava turnover. I forgot to photograph it (hence the empty plate). It was nicely balanced with the tart blueberries and the sweet honey and spice. I'll definitely have to try to recreate that one (I made up the recipe).