Last night was taco night. When I was doing research for the Pillsbury bake off, I ran across this interesting technique for "taco shells" using biscuit dough. I decided to give it a try last night.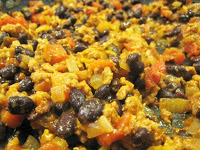 I started with the filling. I sauteed 1 1/2 onions in a bit of olive oil and added a pinch of cayenne, a teaspoon of cumin, 1/2 teaspoon of chili powder, and salt and pepper to taste. I let the onions cook until softened, then added a can of rinsed black beans, a small can of tomatoes with green chilies and let them cook together while I got the taco shells ready.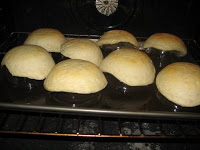 For the taco shells, take packaged biscuit dough, roll it flat and put it on overturned ramicans that have been sprayed with a non-stick spray. Mine needed about 14 minutes in a 350 degree oven.
Once they came out of the oven, I added leftover turkey sloppy joe mix (see my last post) to the filling mixture to warm through, and finished it with chopped cilantro.
They turned out very well. My husband exclaimed that they were just like the chalupas at Taco Bell (he meant it as a compliment).