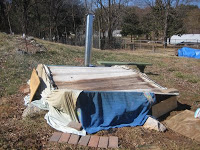 We had a family dinner last night, so I didn't do any cooking. I thought I'd talk about Meatfest 2009 that happened a couple of months ago.
My husband decided to turn our giant fire pit in our backyard into a giant smoker. He did this by adding a chimney, cover, etc. It looked pretty silly, but it worked beautifully. It stayed at a constant 200 degrees with a nice amount of smoke.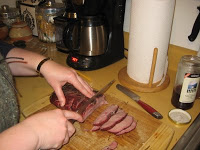 We started the meat tasting with smoked lamb. Simply rubbed with salt and pepper and tied with 3 sprigs of rosemary and let it smoke for an hour and a half. I have to say this was my favorite meat of the whole tasting.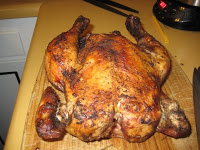 The chicken was very good too. We did a spice rub on the chicken and let it smoke for 3 hours. I finished it in the oven since it hadn't reached the proper temperature. But it was moist and delicious.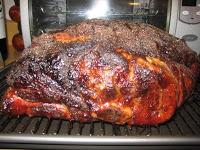 The 10 pound pork shoulder was gorgeous. We put it on the smoker at 6 am and pulled it off at 9 pm. It rested for a full hour and was fork tender, beautifully flavorful and the smoke ring was incredible. It was like professionals had done it.
The house stunk of smoked meat for days, so I think we'll wait until 2010 before we do this one again...