My wonderful husband has been cooking for us the past couple of nights. So, instead of things I have made, I thought I'd tell you about the food I ate for over two years in the Peace Corps.
Niger is in sub-Saharan West Africa, and as you might imagine, the food variety is pretty limited.
In the village of Ilakitan, where I lived, (pop. 1,000), typical meals consisted of:
Breakfast
Leftovers of dinner from the night before (pounded millet porridge with a sauce)
Lunch
Pounded millet with water and milk (what I'm drinking in the picture above). Called "cawi" in Zarma, the language spoken in my village.
Dinner
Pounded millet porridge with a sauce of some sort (a typical sauce would be pounded dried okra, oil and salt poured over the millet, affectionately called "snot-sauce"). Sauces occasionally contained a bit of onion or garlic, but were typically oil, salt and a powdered vegetable or spice.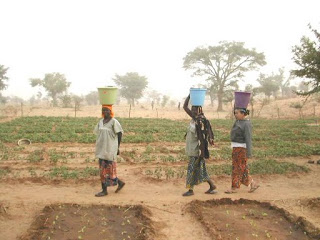 Meat was reserved for special occasions only.
Typical vegetables that you could find outside of the capitol were onions and garlic. During the cold season we had large gardens and grew lettuce, potatoes and cabbage.
Fruits were available parts of the year like mangoes and oranges (from the rainier coastal countries).
Food in the Capitol, Niamey
Niger was a French colony until 1960, so there is still a heavy French influence in the cuisine and in other facets of life. In Niamey, you can find almost any food or beverage you might want: pizza, Chinese takeout, ice cream, patisserie, cheese, and wine or beer.
All in all a very different food experience than what I grew up with, but it was one that truly made me appreciate every meal since!