Dinner last night was an interesting mix of flavors. My husband made the spicy chicken filling and I made the black bean hummus.
Black Bean Hummus
Ingredients
2 cans black beans (rinsed and drained)
1 lime (juiced)
2 garlic cloves
1/2 cup of olive oil
1 1/2 Tablespoons of tahini
2 teaspoons of salt
1 teaspoon of pepper
1 teaspoon of cumin
1/2 teaspoon of cayenne
1/2 teaspoon of red pepper flake
5 dashes of tabasco
1 Tablespoon of red wine vinegar
Directions
Put all of the ingredients in a food processor until desired consistency is reached (add additional olive oil if it is too thick.
Not sure how the chicken was done since I was doing my own thing. Just know that the finished combination was delicious.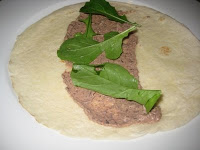 On a heated tortilla, spread the black bean hummus and added arugula fresh from the garden.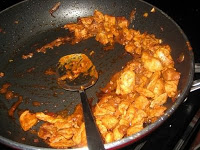 Add spicy chicken filling cooked with caramelized onions (I know the marinade included chipotle in adobo).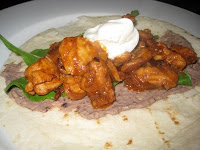 And, here's the finished product. Yum, we'll have to make this one again!